Thu, 20 May 2010
Rimington Trophy 2009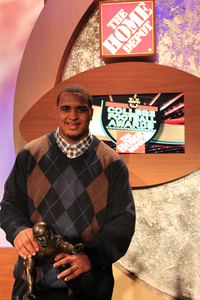 December 10, 2009 - University of Florida junior Maurkice Pouncey has been named the recipient of the 2009 Rimington Trophy. Last month Pouncey joined former Gator center Mike Degory in becoming only the second player from the school to be named a finalist for the Rimington Trophy. He now becomes the first player from the University of Florida to receive the award.

"It's overwhelming. It's a great honor to be the Rimington Trophy winner and to represent the University of Florida as its first winner. I'm extremely humbled," said Pouncey.

The Lakeland, Florida native anchors an offensive line that has allowed No. 5 Florida to rush for an average of 225.2 yards per game, as well as throw for an average of 217.2 yards per contest. Having started 40 games for the Gators, 29 of them consecutively, Pouncey was instrumental in solidifying protection for his offense in the running and passing game. He was recently named a First Team All-Conference selection in the SEC.

Pouncey has graded out a champion at 90 percent or higher in all of Florida's games in 2009, including 98 percent in the first two games of the season. He was named the SEC Offensive Lineman of the Week for his performance against Tennessee, when he checked in at a team-high 93 percent.

"Maurkice has been fantastic this year for the University of Florida. We are extremely proud to name him the winner of the 2009 Rimington Trophy. Congratulations to Maurkice and all the watch list candidates and finalists," said Dave Rimington.

The 2009 Rimington Trophy presentation banquet will be held January 16, 2010, at the Rococo Theatre in Lincoln, Neb.
---